Please note, this is a fictitious letter for a college class (EDT-520) that I am currently enrolled in.
Dear Students,
As your IT Director, it is important to me that you have the right technology and tools (physical or digital) in order to succeed here at school. It is also important to me that you know how to use them, and you know the importance of being a good digital citizen. Being a good digital citizen is very important as I'm sure a lot of what you do involves being a digital citizen. Not sure if you are a digital citizen? Take a look at the graphic below. As it states, there are 9 different elements that make up digital citizenship.
(Gegan, 2014)
From how you access digital content, to how you communicate, and even purchase products, it all ties into being a digital citizen. Have a Facebook or Instagram account? Ever buy anything on Amazon? If so, you're already a digital citizen. While anyone can be a digital citizen, it's important to be a good digital citizen! That includes knowing digital etiquette standards, knowing your rights and responsibilities, and even making sure you take care of your digital health and wellness. Don't worry if this seems like a lot! It's my job to help guide you and educate you on learning how to be a good digital citizen.
Becoming a good digital citizen is just one of the ways that we are working to help you become a better digital learner. The International Society for Technology in Education, better known as ISTE, has come up with some great standards that help us work towards becoming better digital learners. While I have already mentioned the importance of becoming a good digital citizen (which is one of the seven standards), there are six other standards that we are working to follow, in order to help improve your learning.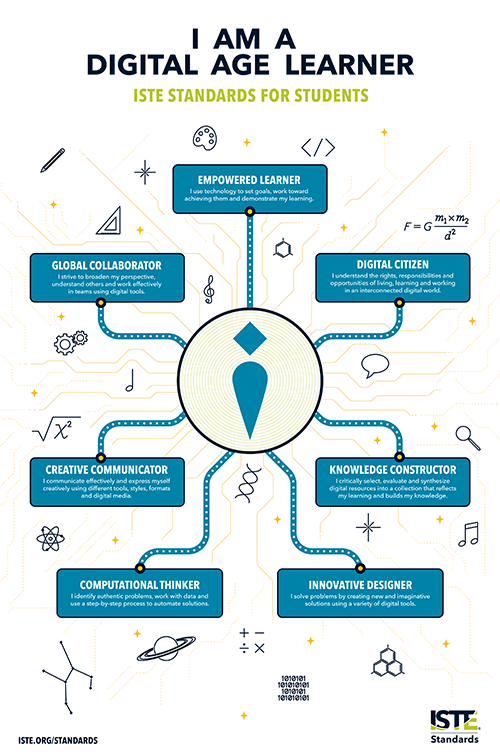 ISTE Standards for Student Learning
Empowered Learner
I use technology to set goals, work toward achieving them and demonstrate my learning.
The first of these standards is to be an empowered learner. By being an empowered learner, it states that you're able to set goals and work towards those goals by using technology. It's my job to make sure that you have the right tools that you need in order to demonstrate your learning. There are various ways you can present what you've learned. By using video editing software, or presentation software, you can take what you've accomplished, and present it in a format that can be watched by students around the world. To further demonstrate what you have learned, we will be working on creating digital portfolios, where your work can be stored and displayed, and over your high school career, you can begin to gather a well rounded collection of projects that represent what you have learned while in school.
Global Collaborator
I strive to broaden my perspective, understand others and work effectively in teams using digital tools.
This next standard is such an important one, because with the amount of digital tools we have access to, becoming a global collaborator has never been easier. It is important to learn about others and understand different perspectives. With this standard in mind, we will work together as a school community to improve our understanding of others by working with not only members of our community, but with members of other communities. One great example that I recently came across was something called Mystery Skype, which involved two different classes, from two different schools around the world, working together to learn from one another. While the examples I saw were mostly primary grades, we can learn from this example, and collaborate with other classes around the world to work with and discuss more advanced topics. The possibilities are endless.
Creative Communicator
I communicate effectively and express myself creatively using different tools, styles, formats and digital media.
Being a creative communicator is really a fun standard. It allows you to be very unique in how you express yourself, and lets you take advantage of great digital tools in order to communicate with others. By taking advantage of free tools such as G Suite for Education (formally known as Google Apps for Education), you can communicate with a variety of services, such as YouTube, Hangouts, Google Sites, and more. All of these tools provide great ways to communicate with others, and they can also be fun to use! Whatever tool you choose to use, it's important that your communication is a well rounded representation of you and your work. We will work to explore new and creative ways on communicating with others, and practice using different methods to find which way works best for each student.
Computational Thinker
I identify authentic problems, work with data and use a step-by-step process to automate solutions.
By being a computational thinker, you can work with digital tools to come up with smarter ways to solve problems. By knowing how to use the right tool in order to find and compare data, you can then formulate your answer based on what you learned, and then use what you learned to repeat and solve other similar problems. It's important that as students you learn how to properly use your digital tools, that way when trying to solve problems, you know which tool to go to. For example, by taking advantage of survey collection tools, such as Survey Money or Google Forms, you can reach a larger audience quickly in order to gather more data to help you achieve your answer. As you go through these standards, you'll notice how you can use multiple to solve a single problem. In this example, you can be a creative communicator in order to collect data, while also using that data to solve a problem.
Innovative Designer
I solve problems by creating new and imaginative solutions using a variety of digital tools.
Continuing from being a computational thinker, it's important to think "outside of the box" to come up with new and exciting solutions. We are taking the approach that it is better to try something and fail, than to not try something at all. This method allows you to experiment with new ways of finding different and creative solutions. While we may have tools that we recommend to you, it's important to note that things are constantly changing and improving, so as educators, we teach you as much as we can, but we can also learn from you the students as well, so making sure you share new solutions and creative digital tools is very important!
Knowledge Constructor
I critically select, evaluate and synthesize digital resources into a collection that reflects my learning and builds my knowledge.
Knowing how to strategically find and collect information is important. One of the ways we work on this is by learning how to identify and cite information from the internet. Purdue Online Writing Lab is just one of many great resources in knowing how to properly cite information that you use. There is a vast amount of information out there, some great, and some not so great. By learning how to properly evaluate the tools and information you find, you'll be better off when making decisions on what to collect and use. While we don't expect you to learn this over night, it takes practice on learning this skill, and by working on projects that require you to extend your reach and go beyond your area of expertise, not only will you learn new content, you will also discover new ways to find and collect that content. By referencing back to our digital portfolios, you will be able to store this information in a way that represents you, and how you learned about a specific subject.
Digital Citizen
I understand the rights, responsibilities, and opportunities of living, learning and working in an interconnected digital world.
The final standard in the ISTE Student Standards is knowing the importance of being a good digital citizen. While I highlighted the nine elements above, we are going to work on learning all aspects of being a digital citizen by focusing on each of the nine elements. While some may think being a good digital citizen is about having good manners online, it is much more than just that. One element that may be of surprise is "digital health & wellness." This element focuses on your physical health and how it is affected in a digital world. For example, in a recent article I read, it was stated that, "too often, technology safety concerns relate only to the security of equipment and not the physical well-being and security of students" (Ribble, 2011). As we focus on our digital health and wellness, it's important to remember that there is a lot more at stake than just the security of the equipment. Our digital tools and interactions can be very important, but our physical health and wellbeing is also just as important.
As a brief overview, I wanted to include a quick video which helps to explain the standards that ISTE has created.
(ISTE, 2016)
As we move forward and embrace different types of technology, my goal has always been finding the best ways to integrate technology into the school so that students can take full advantage of the resources that we are able to provide. Instead of restrictions and limits, it is important to provide access for creativity and learning. At the same time, it's also important to know the proper ways of using the technology that is provided.
By working with these standards listed above, and focusing on all aspects of being a good digital citizen, we can work together as a team in embracing technology together, by finding new ways to learn, and becoming more efficient in how we work.
I look forward to working with you all in this upcoming year, and I can't wait to see what you can do with the digital tools you have access to.
Cheers,
Mr. Jones
References
Gegan, W. (2014, September 9). 9 Elements of Digital Citizenship - Printable Poster. Retrieved February 27, 2017, from https://www.fractuslearning.com/2014/09/09/digital-citizenship-poster/
ISTE. (2016, June 26). Introducing the 2016 ISTE Standards for Students. [Video File]. Retrieved from https://youtu.be/mDCAnJ8NnFA
ISTE Standards For Students. (n.d.). Retrieved February 27, 2017, from https://www.iste.org/standards/standards/for-students-2016
Mystery Skype. (n.d.). Retrieved February 27, 2017, from https://education.microsoft.com/skype-in-the-classroom/mystery-skype
Ribble, M. (2011). The nine elements of digital citizenship. Digital citizenship in schools. (2nd ed. chapter 2) Retrieved from https://www.iste.org/docs/excerpts/DIGCI2-excerpt.pdf